The third quarter of 2021 saw China's economy develop at its slowest pace in a year, dragged down by an energy crisis, Covid-19 outbreaks, and the struggle of Evergrande assets.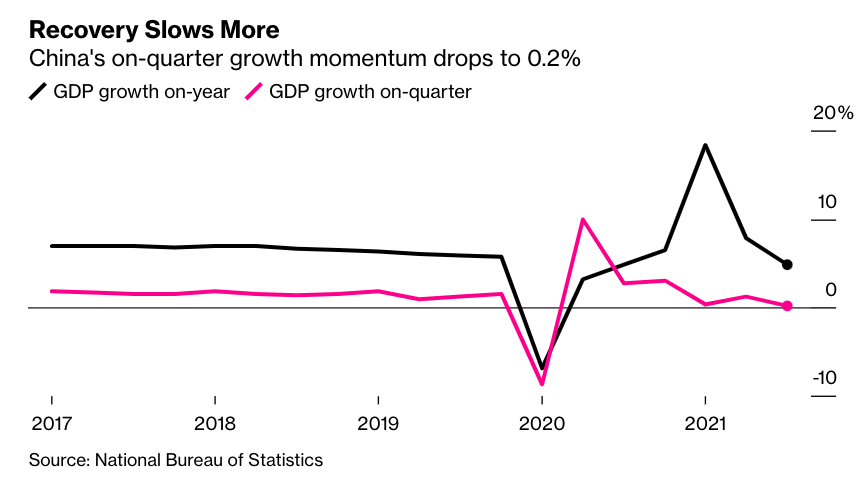 While economists expected China's third-quarter growth rate to decline as a result of the ongoing energy crisis, it supposedly fell by more than expected.
In September, the country's industrial production, which is released with the GDP, grew at a slower 3.1%, below the 4.5%  projected by Reuters.
The NBS (National Bureau of Statistics of China) acknowledged that the economy faced new challenges in the third quarter, admitting that the power outage had a "certain impact" on production. These difficulties, however, were "controllable," according to the agency. The energy crisis has resulted in greater power outages and restrictions on factory electricity usage, which has had a negative impact on output.
Fears of Evergrande, the country's second-largest developer, failing to satisfy its payment obligations continue to cloud the property sector, which accounts for up to 30% of the country's GDP. Furthermore Covid-19 cutbacks on customer spending and consumption have also weighted on the struggling economy.
With a 18.3% growth rate in the first quarter of 2021, the world's second-largest economy recorded a better-than-expected economic recovery from the pandemic. The recent decline, on the other hand, has sparked concerns about whether these issues are eventually dragging the economy down.
Louis Kuijs, Head Of Asia Economics at Oxford Economics - "In response to the ugly growth numbers we expect in coming months, we think policymakers will take more steps to shore up growth, including ensuring ample liquidity in the interbank market, accelerating infrastructure development and relaxing some aspects of overall credit and real estate policies,"