On Thursday, European Central Bank President Christine Lagarde attempted to downplay the likelihood of a rate hike in 2022, implying that market participants may be getting ahead of themselves in their forecasts.
Despite ongoing inflationary pressures, the eurozone's central bank decided Thursday to maintain interest rates and its monetary policy stance.
"Our analysis certainly does not support that the conditions of our forward guidance are satisfied at the time of liftoff as expected by markets, nor anytime soon thereafter," Lagarde said. "We really looked and very deeply tested our analysis of the drivers of inflation, and we are confident that our anticipation and our analysis is actually correct."
Because of rising consumer prices, the central bank announced in September that it would buy fewer bonds. In the eurozone, inflation reached 3.4% in September, a 13-year high. Lagarde made it clear at the time that this was a recalibration, not a tapering. This is because the ECB believes that higher inflation is only temporary and will fade by 2022. "Rising energy prices, the recovery in demand and supply bottlenecks are currently pushing up inflation. While inflation will take longer to decline than previously expected, we expect these factors to ease in the course of next year. We continue to foresee inflation in the medium-term remaining below our 2% targets," Lagarde said Thursday.
On Risk Assessment, Lagarde said "The recovery continues to depend on the course of the pandemic and further progress with vaccinations. We see the risks to the economic outlook as broadly balanced. In the near term, supply bottlenecks and rising energy prices are the main risks to the pace of recovery and the outlook for inflation. If supply shortages and higher energy prices last longer, these could slow down the recovery. At the same time, if persistent bottlenecks feed through into higher than anticipated wage rises or the economy returns more quickly to full capacity, price pressures could become stronger. However, economic activity could outperform our expectations if consumers become more confident and save less than currently expected."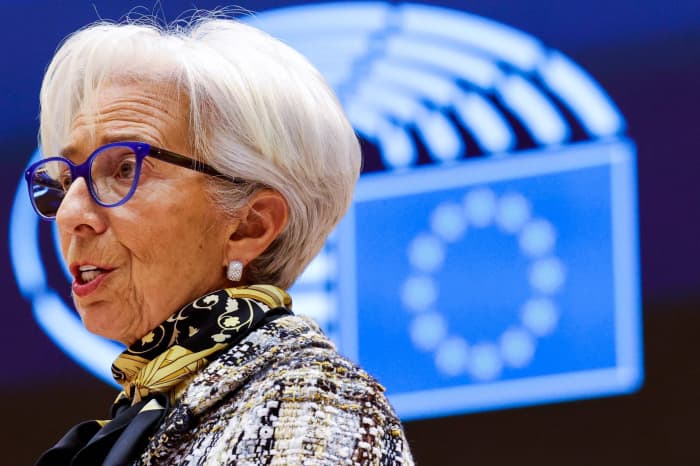 Additional Comments From Lagarde
PEPP will terminate next March. It remains to be seen whether the full PEPP envelope will be used. In December, we will debate the post-PEPP policy.
Inflation is rising primarily due to energy, but also due to demand. The ECB anticipates inflation to grow higher this year, then decline next year. Inflation pressure should reduce in 2022. The current period of inflation will extend longer than projected.
By the end of the year, the economy will have recovered to pre-pandemic levels. The pandemic's grip has loosened.
The labor market is improving. The return of the economy to full capacity will support wage increases. We are very attentive to wages, based on data we have no reason to believe they increase sustainably.
I see supply squeeze and energy risk for the near-term outlook. There is every reason to assume that energy-related inflation will subside next year.
Market-based lift-off expectations are not supported by analysis. The guideline requirements for lift-off will not be met in the near future.
Supply issues are expected to persist for the majority of 2022.