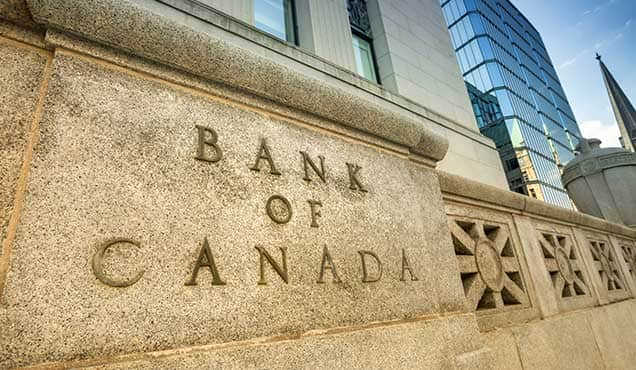 Citigroup
Citigroup now expects a Bank of Canada rate hike, following the release of December CPI data, which showed a 4.8% annual increase, a 30-year high. Even though omicron-related economic restrictions are in place in the country's most populous regions, the BoC will likely stay on the more inflation-cautious side. We expect a quarter-point increase on January 26th, followed by increases in April, July, and October.
The rise in core inflation, which has reached an average of nearly 3% across the three gauges tracked, is what has pushed the BoC into tightening mode. The CPI-Common Index, which tracks common price changes across categories, surpassed 2% for the first time since 2012.
Wells Fargo
BoC policymakers recently highlighted uncertainties tied to the Omicron variant as well as natural disasters. They also indicated that the Canadian economy still requires considerable monetary policy support. In that sense, and even as inflation continues to move higher, we do not expect a rate increase at the Bank of Canada's January monetary policy meeting.
Indeed, with the central bank perhaps wanting to monitor the impact (or perhaps lack of impact) from the Omicron variant in the coming months, our view remains the Bank of Canada will deliver an initial rate increase at its April meeting.
Scotiabank
Scotiabank: Expecting the BoC to raise rates by 25 basis points by next week. and by the end of 2022, expects the BoC policy rate to be at 2%.
"Market pricing reflects a high degree of conviction that the BoC will pull the rate trigger on Wednesday, but this is not an absolute certainty," Scotiabank's Osborne and Herrera wrote in a note on Friday. "While Omicron concerns may keep policymakers on the sidelines, a hold should be accompanied by a hawkish policy statement that clearly lays the groundwork for a hike in March."
Previous Rate Decision and Statement
The previous BoC rate decision on December 8th 2021 came in at no charge, which was in line with the forecasts for no change at 0.25%.
In the statement that followed the rate decision. the bank of Canada noted that CPI Inflation is high, and the impact of global supply restrictions is affecting a larger range of products prices, and the bank expects CPI inflation to stay elevated in the first half of 2022 before easing back to 2% in the second half.